Services
---
Buyer Representation:
Buying and developing land is a risky business. We know… because we've done it!
We understand that this industry is about more than just location, location, Location! Finding the right information and leaving no stone unturned is why our clients profit from working with us.
Risk factors associated with land acquisition:
Price & terms
Market conditions
Entitlements & fees
Environmental issues
Zoning
Utilities
Construction costs
Our experience enables us to effectively investigate, understand, and communicate these issues with the appropriate parties. Our talent is finding solutions that meet the needs of both sides of the table. Our years in the business have taught us that unless we meet the business objectives of the client, no transaction will take place. 
We specialize in creating opportunities that you won't find on the residential and commercial MLS. We look at land every day. If we don't have it listed, we know where to find it.
---
Seller Representation:
Working For Our Clients
The most important person in the transaction is our client. The sales price and its terms are determined by you with our assistance and knowledge. Pricing land depends on your goals for the property. We will advise you of your options. You decide the path to take!
Land Analysis
Gathering information is key! We spend an incredible amount of time analyzing the information we seek from a mountain of sources. Government agencies, public databases, and our own business associations provide us with a wealth of available information.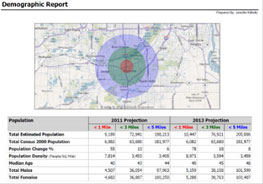 Plat maps, Zoning Maps
Utility Plans
City Ordinances
Comprehensive Plans
Aerial Photos
Surveys
Traffic Counts
Title Information
Soil Information & Topgraphical Maps
Rents & Comparable Sales
Sorting and analyzing that information is even more important. Our brokers and agents are trained to translate that information in a way that is understandable to you.
---
Marketing Your Property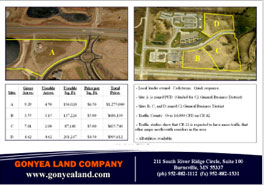 We use a host of tools available to market your property. Some clients want the most visible, inclusive and far-reaching marketing plan available. Other clients have reasons to be more discrete. We work with you to achieve the most appropriate marketing strategy you need.
---

Signs
The for sale sign remains as one of the best marketing strategies in the land business. The Gonyea Land Company orange is unmistakable and has been serving our clients for over 40 years!
---
Northstar MLS
Serves more than 13,000 realtors in Minnesota and western Wisconsin. Conducted more than $10 billion of real

estate transaction volume in 2011. It gives us access to more than 57,000 active listings, more than 1.2 million comparable and sold properties, and 2.79 million property records from 87 Minnesota and 3 Wisconsin counties. Listings also project into the National Association of Realtors database.
---
MNCAR Exchange

Serves over 1,200 active commercial real estate professionals. It gives us access to over 8,500 active commercial listings, serves over 31,000 properties, and contains more than 58,000 verified commercial sales comps. This system also provides us with up to date marketing data such as:
1-3-5 Radius Demographics
Aerial Imaging
Traffic Counts
---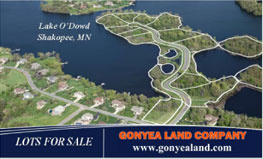 Mail/Website/Email Marketing
Our company website is the first place interested parties come for additional information about your property. In addition to reaching out to members of our trade associations, we maintain an exclusive company database of buyers that are interested in certain types of properties. We have in-house staff trained to create custom marketing packages that meet the needs of every type of property.